Agribusiness & Food Systems
You are the start of the food system. We can help.
CIFT engages with specialty crop growers, agriculture producers, and agribusiness to strengthen the supply chain through technical resources, emerging technologies, industry best practices, and novel business approaches. Our team partners with academic experts, governmental agencies, other organizations, and numerous service providers to enhance production capacity or business development.
Although traditionally engaged in the processing and end product aspects of the food industry, CIFT also studies enhanced growing practices.  One such growing practice is the hoop house.  Made of galvanized steel arches covered with polyethylene plastic, hoop houses are typically temporary frames with no permanent foundation.  The structures also feature adjustable side vents which provide a cheaper means of temperature control than traditional mechanical means.  A hoop house can be constructed in various sizes that are conducive to growing different vegetables.
Hoop houses provide an economical way to increase profits and maintain a competitive advantage in the marketplace, use minimal land area and less energy than traditional greenhouse structures.
CIFT offers a full range of food safety services to food processors through microbiological consulting and testing, food safety auditing, and food safety and quality training.  Producers developing a new food product require microbial assistance and shelf stability testing.  Fruit and vegetable producers can benefit from a Good Manufacturing Practices (GMP) consultation in efforts to prepare for required certifications from retailers.  Mock audits reflect progress towards preparation of the USDA audit.  Training seminars are also offered to demonstrate proper handling and production of food products including worker hygiene and sanitation practices.
Growers can enhance business by exploring new markets for their products. CIFT's agribusiness advisors will help you understand how to market to consumers and provide the opportunities, issues and benefits associated with farmers' markets, and other venues.
Through direct marketing, more income remains with the producer while consumers benefit from fresh, wholesome alternative products with minimal processing.
CIFT is supported by the Ohio Department of Agriculture's Specialty Crop program in exploring the following initiatives: innovative food safety documentation tools, dehydration of produce, and production and processing of edamame. All of these programs will provide information to growers interested in expanding operations, exploring new markets, or enhancing production.
For more information, download our free Producers' Resource Guide and visit Ohio's MarketMaker - an interactive mapping system that locates businesses and markets of agricultural products in Ohio, providing an important link between producers and consumers.
Through CIFT's consortium of member companies including food processors, equipment manufacturers and institutions, multiple research projects are conducted addressing an agreed industry challenge.  CIFT serves as the catalyst in advancing the research component and implementing it within the marketplace.  Commercializing technology strengthens the proficiency, productivity and profitability of agribusinesses in the state of Ohio and the nation.  By directly connecting the processor and researcher, technology transfer is heightened and accelerated via immediate need and available avenue for implementation. 
CIFT investigates alternative growing practices and methods allowing for unique production capacities for increased food production.  One such example relates to a high density vertical growing system designed for non-traditional production locations.  The system enables plants to grow in significantly smaller spaces and in varying ground covers from concrete to parking lots.  The production potential can reach 1,500-2,000 pounds of strawberries per season to 1,500-2000 heads of lettuce per month.
A vertical system can be constructed in various sizes from four stacks equating to 80 plants, or upwards to a design for thousands of plants.  The common reference is that in one acre this system supports plants that would traditionally require eight acres of farm land.  The options are endless from a small scale farm operation to research to commercial production or backyard gardening without soil.  The vegetables or flowers are grown in a coconut potting medium with the primary purpose of holding moisture and maintaining the root base.  The plants use a hydroponic system enabling nutrient application to the plants.  Any vegetables can be grown with the exception of root crops.
Installed injectors allow for automatic watering by accessing barrels of a water and nutrient mixture.  Rows can be upwards of 75 feet long to utilize the pressure compensated emitters.  A typical commercial operation includes 96 towers of five pots high, with 12 towers per row equating to approximately 29' x 48' ground cover and 2,100 plants.  The layout can be expanded or modified to fit the space allotted.
Due to the hydroponic application and the design of the towers which swivel on a plate, the labor input is very minimal.  Upon completion of the construction elements, weekly monitoring of the water and nutrient supply is required.  Minimal weeding is necessary.  The bulk of the labor involves the harvesting of the produce upon maturity.
The vertical system is constructed outside and therefore susceptible to natural elements and standard growing seasons.  However, it can be constructed within a greenhouse or hoop house structure to extend the season.  An additional element to this unit involves the inclusion of an ozone generator.  Occasionally a water source may not be appropriate for plant growth due to sulfur or similar elements.  An ozone generator will eliminate the undesirable conditions and produce a clean water stream ensuring plant growth.  The high density vertical system can be a cost effective alternative for food production.
The Agricultural Incubator Foundation (AIF), located in Bowling Green, Ohio, cultivates a partnership of northwest Ohio agribusiness representatives, researchers and educators committed to establishing programs that will stimulate interest in and respect for agriculture as a mainstay in the area economy.  The AIF offers 140 acres of land for business and research opportunities, multiple greenhouses, meeting areas and business development services.
Several demonstration projects reflecting innovative production practices are managed.  One such project increases the quality and growing of berry crops called a trellis system.  This system allows for the berry plants to grow in a "V" shape rather than the typical vertical shape which provides better contact with the sun and easier access for harvesting.  The trellis also permits the 108 berry plants to be rotated allowing for optimal positioning depending on the weather and season.  The system provides support and protection resulting and optimal berry crop production.
The success of the trellis growing system for its first growing season in 2016 produced 100 pounds of berries.  The blackberries were harvested, then sold fresh at northwest Ohio farmers markets which provided fresh fruit to the community.  The raspberries were harvested, then, using a cryogenic freezer, were frozen using a "flash freeze" method which enables product nutrients (and other desired characteristics) to be captured immediately.  This service is especially helpful for growers 1) with excess product at the end of the season, 2) wishing to grow more product for new clients, and 3) interested in expanding current crop selection.  The raspberries were sold at the end of the season and processed into jam.  Each color berry has a unique composition of vitamins, minerals and antioxidants.
Interest in the craft beer industry continues to rise as the U.S. remains one of the largest beer producers in the world, brewing more than five billion gallons each year.  As a result the enthusiasm in Ohio hops production, along with the potential demand and profitability for growing this unique crop, remains very strong.  A research project in conjunction with AIF, Center for Innovative Food Technology, and The Ohio State University, includes 10 different hops varieties and 240 plants.  The hops project was established to determine the viability for growth in northwest Ohio.  The first harvest took place in summer 2016 which received strong interest from growers, brewers, local media and others.  A workshop was held around the same time which included attendees from counties across northwest Ohio.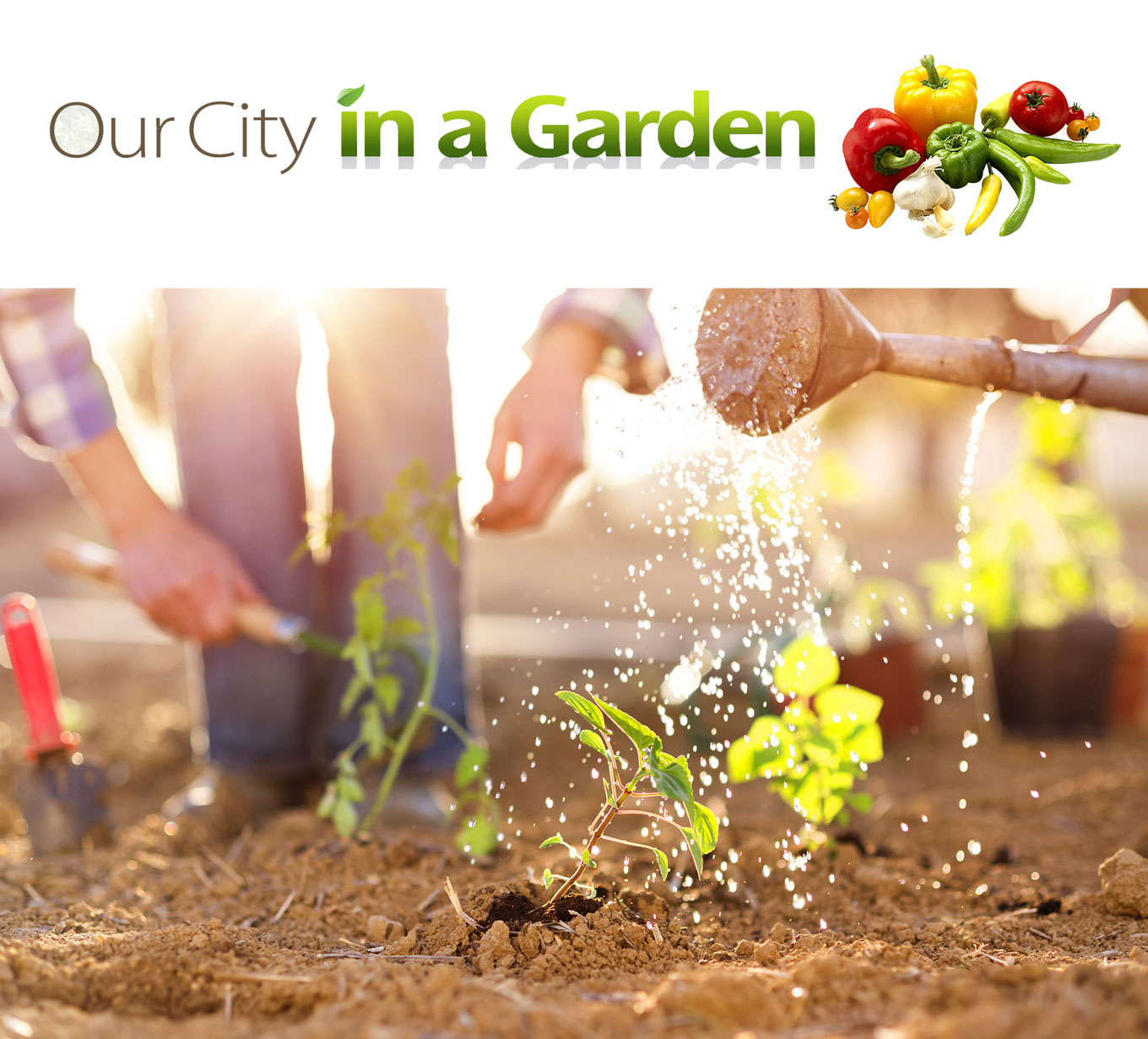 Through an effort to help transform Toledo, Ohio, to "Our City in a Garden," CIFT worked with numerous partners to create a model for an urban-based system to produce, prepare, process, preserve and distribute healthy and wholesome food products within the community, accomplishing these ends in a manner that stresses environmental sustainability.
The goal of this effort: Meet the increasingly acute need for nutritious foods in our cities, and in doing so, promote local production by local citizens.
To learn more about the vision, progress and future of the Our City in a Garden initiative, visit their Facebook page.