Small Business Assistance and Services
You have a dream to scale your product. We can help.
CIFT provides technical solutions to Local Food Systems and Urban programs.  We help our clients with emerging technologies, industry best practices, and novel business approaches.  Our business advisors and food scientists work with food processors, industry equipment manufacturers, university researchers and government agencies on food safety and quality, new product and package development, and small business development and training.
Small Business Development Services
Small Business Assistance
CIFT has worked with small and startup companies since the center's inception in 1995.  In conjunction with the Northwest Ohio Cooperative Kitchen (NOCK), CIFT provides product development guidelines, resources and marketing direction to entrepreneurs involved in the production of value-added food products.  Technical capabilities, including nutritional analysis and shelf-life stability testing, ensure that the products are produced safely and properly.
CIFT hosts numerous educational programs at the NOCK facility that show participants how to establish a commercially viable food business.  Our food technology center also helps food-based entrepreneurs with regulatory compliance involving local health departments and the Ohio Department of Agriculture.  Information on packaging options, sourcing of ingredients and labeling offer a portfolio of knowledge to start up enterprises.  One-on-one consultations with CIFT business advisors provide help with defining a viable plan to establish a profitable food business venture.
The NOCK provides an affordable venue in which to develop a concept into a commercially viable food product.  The commercial kitchen facility combines business and technical assistance with production equipment to bridge the gap between an idea and reality.
The ability to network with other entrepreneurs, access information and take advantage of production capacity - all in one spot - minimizes the risk for a new food business venture.
For additional information, visit the Agricultural Incubator Foundation's site.
For a list of current NOCK processors, click here.
CIFT has held past food contests to promote many new local products ready to take that next step – actual product development.  Past awards have been given in different parts of Ohio to educate and advise new and growing businesses on business planning, product/process development, shelf stability testing, labeling review, regulatory assistance, and batch product preparations for sampling.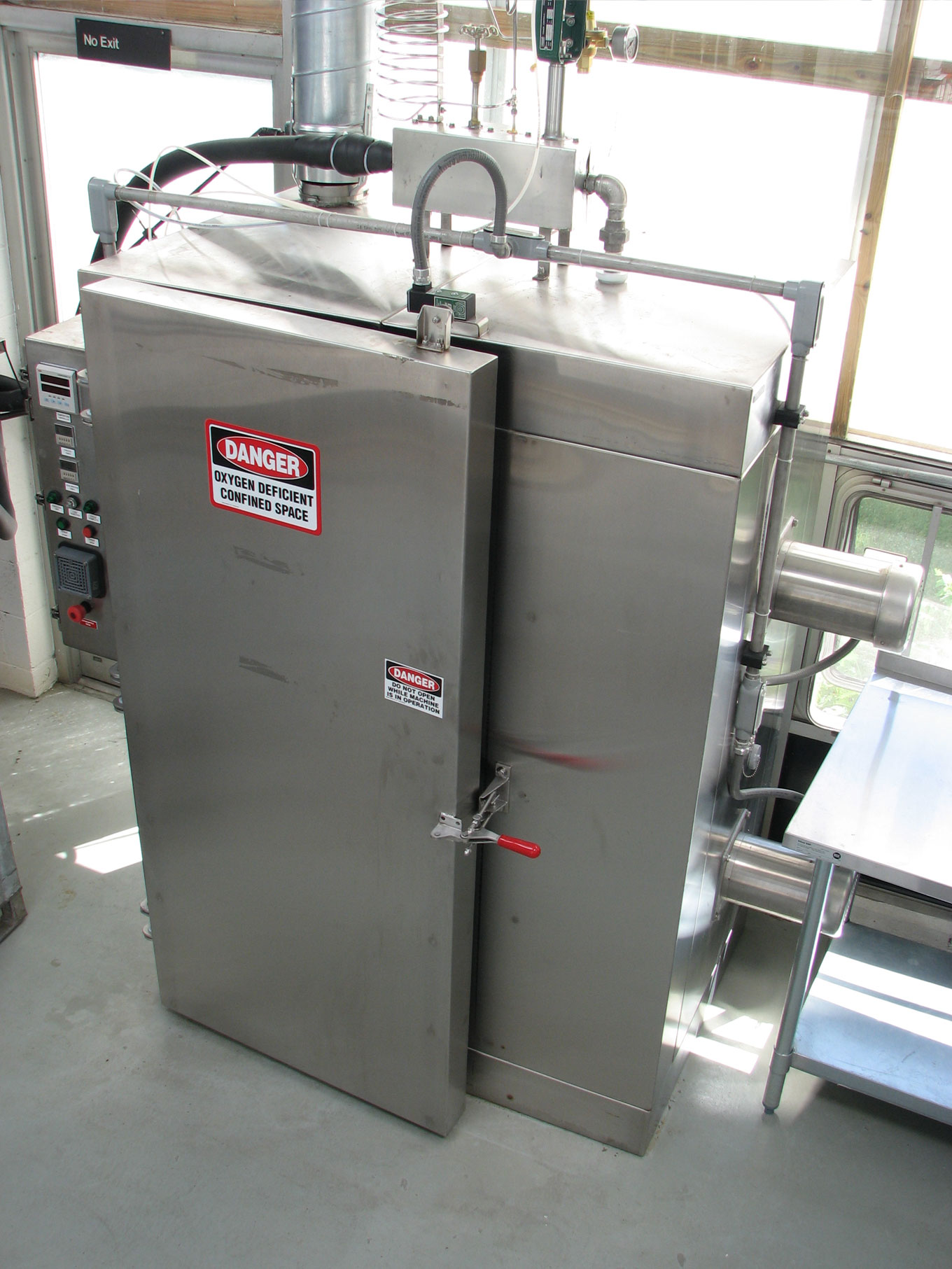 Blanching/Freezing Project
CIFT has a state-of-the-art freezer located at the NOCK, along with a blanching/freezing process, which helps explore new ways and benefits for freezing produce.  This allows for testing of the process variations associated with different crops.  The information is then provided to growers to assist with crop selection, as well as potential buyers searching for locally-produced product in the off season.
The cryogenic freezer uses liquid nitrogen as a medium to "flash freeze" product.  A temperature as low as 50 below zero is achieved in a very short time which enables product nutrients (and other desired characteristics) to be captured immediately.  This service is especially helpful for growers 1) with excess product at the end of the season, 2) wishing to grow more product for new clients, and 3) interested in expanding current crop selection.
CIFT works with start-up food processing companies through its association with several midwest incubator facilities.  Through these relationships, we have learned that limited distribution resources represent a major barrier to growth for small processors.
By linking small producers on a regional basis, multiple companies can synergize their distribution efforts.  Utilizing backhauls and consolidating shipments, for instance, allow small companies to extend their markets and reduce delivery expenses.  To this end CIFT has explored and will continue to investigate a model for creating a virtual distribution company.