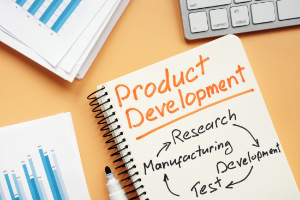 What is Product Development?
Many companies may treat product development as if it is similar to manufacturing, however the two are profoundly different. Product development is the whole process of bringing a new product to market whereas manufacturing is solely the production aspect. Product development is not only essential for business success, but also contributes directly to a company's growth. The product development process for most food businesses consist of five basic stages: Idea Generation, Screening, Concept Development, Product Development and Commercialization.
Why is Product Development Important?
In order to stay competitive and satisfy consumer needs, companies need to be innovative and part of innovation is product development. If you're part of a larger corporation, you might have your own team of development specialists that includes food scientists, food engineers and marketing experts. Even with a specialized team, development is not a quick initiative. The average time spent on developing new food products is about two years and failure rate can be as high as 90%.
Current US Food Trends
Many food scientists are increasingly faced with developing products that are influenced by claims such as, "Clean Label", "Natural", "Organic", "Sourced Domestically" and "Containing No Trans Fat". This effort is largely based on the consumer, who is becoming more educated about what food products they consume or purchase.
In 2020, there have been a few trends within the food industry that are gaining momentum and have captured the eye of the retail consumer, for example:
Plant Based Meat Alternatives (ie. Beyond Meat, Impossible Burger, etc)
Functional Foods (ie. Probiotics Added, Calcium Fortified, etc)
Global Flavor Profiles (ie. West African, Middle Eastern and South Indian)
CIFT's Product Development History and Offering
For over 25 years, CIFT has been involved in product development and helping a variety of food manufactures on projects related to Formulation Development, Concept Development, Ingredient Sourcing, Sensory Analysis to Production Trial Runs. Led by Dr. Shari Plimpton. Our clients range in size from million dollars to over a billion dollars in annual sales.
Satisfied Customers
Many of the clients CIFT works with have products found in retail and/or food service regionally, nationally and international. CIFT's product development experience includes Fermented Dairy Products, Meats, Entrees, Frozen Foods, Canned Vegetables Sauces, Snacks and Confectionery Products.
One of the many product development success stories includes CIFT working with Meijer. Meijer is a pioneer in the combined grocery and department store industry. Today, they have more than 200 locations located throughout the Midwest. CIFT's expertise helped deliver a substantial economic impact by resulting in savings of more than $12,000, five new jobs and increased/retained sales of more than $3.8 million. Read the entire success story, "Launching New Products in Just Nine Months".
No matter if you are a meat processor, canned vegetable producer, beverage or snack manufacturer…CIFT has the experience to get you to the next level.
Additional Expertise — Supply Chain Optimization
Development is just one of CIFT's expertise. With Covid-19 yielding a major impact on many food manufacturers' supply chain needs, we also offer a free Supply Chain Assessment. This free assessment is available for food manufacturers faced with challenges ranging from long lead times to seeking alternate ingredients, packaging and/or chemical suppliers.
CIFT can provide technical assistance for any of your development needs, large or small. To schedule a complimentary consultation, please fill out our contact us form and our experts will be able to assist you. When you are ready, we are ready!
Rowmark is a leading manufacturer of engravable sheet plastic for the awards, engraving and signage markets and carries a complete line of products for sublimation and digital printing. Rowmark's products are made in the United States and sold in more than 80 countries around the world. In order to grow the company and increase efficiencies, Rowmark wanted to assess and understand the product flow, material movement and volume profiles at their Findlay and Columbus, Ohio locations, while also understanding how those facilities interfaced with other facilities in the network and implementing a continuous improvement mindset throughout the company. To do so, Rowmark paired up with Ohio MEP.
Ohio MEP helped Rowmark by coordinating with St. Onge Company, a supply chain engineering and logistics-consulting firm. St. Onge Company provided Rowmark with a closer look at their supply chain and internal interfacing network. St. Onge Company also compiled a data review and a design principles document for assistance with continuous improvement.
The data and information gained from this project transformed Rowmark's processes. The information fed Rowmark's supply chain Kaizen event, operation reviews and discussions and enlistings of improvement opportunity scenarios. St. Onge Company then facilitated the Kaizen event which fosters continuous improvement and Lean principles for the company.
From this partnership and the supply chain knowledge gained, Rowmark saved over $1 Million, increased their investment by $1.2 Million and created five new jobs.
Verhoff Machining & Welding, Inc. is a family owned operation employing 120 dedicated staff. Located in Continental, Ohio, Verhoff services the agriculture industry, industrial manufacturing, heavy equipment and military industries. The company experienced a significant reduction in sales to the defense supply chain, and needed core strengthening of the manufacturing operations and decided that implementing lean manufacturing would benefit them the most.
Implementing lean manufacturing, also known as continuous improvement, helps to restructure workflow which saves time and money, allowing manufacturers to reduce their wasted time and effort.
The company reached out to CIFT, a regional Ohio Manufacturing Partnership (MEP) partner to implement the lean program. The assistance of CIFT/Ohio MEP proved to be critical to the program's success.
To help Verhoff with their key areas of improvement, CIFT provided the "on-site" process education and "hands-on" shop floor experience and implementation of lean principles and techniques. The program's implementation of lean manufacturing is projected to result in 165 jobs retained or created, and a potential revenue of more than $13,000,000 on an annual basis.
The cost savings from incorporating the lean program is estimated to be more than $58,800.
In addition to increased sales and jobs, Verhoff was able to purchase $725,400 worth of new investments.
"The program was a much needed resource to help elevate our company to meet the needs of the workload," said Barb Rieman, accounting and human resources, Verhoff
This project was funded in part by the U.S. Department of Defense Office of Economic Adjustment through a grant managed by The Ohio State University. To learn more how Ohio MEP and implementing lean manufacturing can help your company, please contact us through our website.