Articles by Month:
November 2021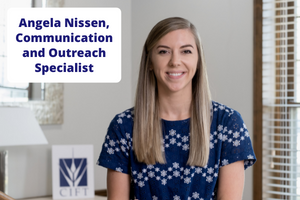 We believe it's important to know who you're working with.
We're continuing our Getting to Know CIFT blog series with our Communication and Outreach Specialist, Angela Nissen. Angela started with CIFT in June 2020 and plays a key part in telling CIFT's story. We asked her some questions to get a glimpse into her role and what makes her excited to go to work everyday.
What do you do at CIFT?
I am responsible for various marketing and communication efforts such as blogs, video, social media, website and email campaigns. I also help with coordinating and planning different events and webinars CIFT hosts like our annual Ohio Food Industry Summit, Member Appreciation event, CIFT Excellence Award Ceremony and roundtables. My goal is to highlight the great work CIFT and our clients do and help CIFT be the voice of the industry.
What motivates you to wake up and go to work?
Knowing that the work our team does actually helps companies serve our community brings me pride in my job. The possibility that the content I create can spark a new idea or shed new light to our #essential industries and capabilities are motivation to me.
What has been your favorite project/initiative so far? Or what do you like the most about CIFT?
Being a part of the #essential – the untold story of the Ohio food industry and the pandemic has been my favorite project so far. I was able to work with a topnotch video producer and some of our clients/members to tell their stories of the pandemic. It was so moving to hear how the food companies had to adapt to keep us fed.
What's one thing you want people to know about your role, service or CIFT?
CIFT's goal really is to help advance the food and manufacturing industries. Our service team is so skilled and truly wants to help.
What's something most people don't know about you?
I love volleyball and music. I played college volleyball and was president of an a cappella group. American Idol auditions came to my college and I auditioned. It was such a fun experience!
The Northwest Ohio Cooperative Kitchen (NOCK) was created to be a place for food entrepreneurs to expand their businesses through access to an affordable, commercially licensed kitchen. Anthony Brabaker from Cocina Al Sol is one of those entrepreneurs that have taken advantage of the facility. He has been producing an authentic, fresh, Southwest Style Tex-Mex flavored taco sauce at the NOCK since 2018. However, Anthony's history with CIFT started back in 2013 after he won the 2013 Ohio Product Development Contest with his signature barbeque sauce. After the contest, Anthony's product was selected to participate in a CIFT focus group. That focus group is what redirected his path from barbeque sauce to taco sauce. 
By using the NOCK facility, Anthony avoided spending $750,000 in building his own licensed kitchen. In return, he was able to spend more time on his brand and sales. Over the past three years, Anthony has gotten many opportunities from multiple stores requesting his product. Recently, he started selling his taco sauce at select Meijer locations in Northwest Ohio.
"Without the help from CIFT, I wouldn't be in an economical position to achieve a business. From my first BBQ sauce to my taco sauce, CIFT was there when I needed them. CIFT gave me the opportunity to network with other entrepreneurs at the NOCK which allowed me to make successful business decisions."  – Anthony Brabaker
We are proud and honored to be able to work with Anthony and help assist him with his business. If you are interested in learning more about our licensed kitchen and how we can help your business or want to learn more about the NOCK, please feel free to contact our Small Business Development Specialist, Kareem Hammuda.