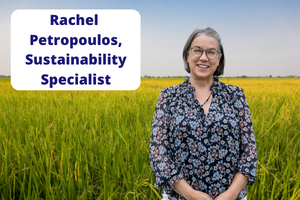 Connect with Rachel Petropoulos on LinkedIn.
We believe it's important to know who you're working with.
Our team keeps growing with a brand new position! We are happy to introduce Rachel Petropoulos to the team as Sustainability Specialist. Rachel officially started with CIFT in June this year and she is ready to tackle a special sustainability initiative for the state. We asked her some questions to get a glimpse into her role and what makes her excited for this new position.
What are you excited about in this new role?
CIFT is taking the lead on facilitating the work of the Sustainable Food Packaging Initiative (SFPI) which is bringing together industry and academic innovators to bring new ideas and technologies to food packaging. There is much work being done in materials, design and end-of-use planning for the packages we all touch each day. I am excited to be at the table as solutions are being formed that will end up on shelves.
What motivates you to wake up and go to work?
In a single word, I would say "waste" — of materials, natural resources and labor to name a few things.
It's been a professional and personal passion of mine to work in the trenches of energy management, waste diversion, recycling education and the data analysis of these systems. I can geek out on metrics that bring about process improvements and progress in carbon reduction and stewardship of materials.
What has been your favorite project/initiative so far? Or what do you like the most about CIFT?
I am excited to see how things are made. It is fascinating watching raw materials move through the process to finished products. And to know that our team at CIFT is having a role in manufacturing stability and sustainability in our region.
What's one thing you want people to know about your role, service or CIFT?
I know I will be learning each and every time I walk into a manufacturing facility. I am excited to establish relationships and connections that will further the mission of CIFT and serve our clients with top notch services.
What's something most people don't know about you?
Garbology has been a discipline I've been involved with for decades. I've done bin audits, deep dumpster dives, move-out waste diversions on a college campus and designed waste and recycling collection stations, along with educational graphics and guidelines.
Learn more about CIFT manufacturing services and the Ohio MEP.
Get to know the whole CIFT team.
Categorized: CIFT Team, Manufacturing, News